---
EB Stories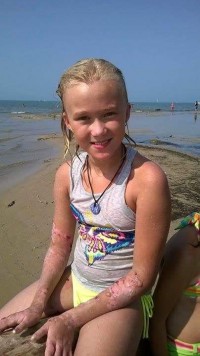 Cierra
My daughter is 12 years old and also suffers from EB. We are from Ontario. Another beautiful butterfly child. Every day is a new war for her. These babies are my heroes! Just wanted to share my beauty! These children should be recognized as everyday heroes, as they go through so much.
EB has affected us in many ways. We have had to adjust to all aspects of our lives to suit our daughter and her needs… right down to how we grocery shop. Cierra gets inspiration when she sees others fight EB – just knowing she isn't alone. She does have a very hard time with school and friends. Being different has been a huge obstacle for her. She can't participate in many activities for fear of blistering. Cierra lives a fairly normal lifestyle in all other ways. She loves swimming, shopping and just being normal as she can be.
Thank you for taking the time to read our story.
Sincerely,
Cierra and Courtney Iredale