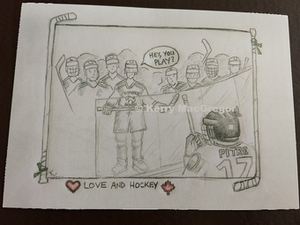 5" x 7" by Kerry MacGregor (see message from artist below)
For shipping outside Canada and the U.S., please contact Erin Hoyos (ehoyos@debracanada.org)
** Important** Please disregard tracking information that mentions "No shipping required", your item is being shipped when you receive the confirmation.
A message from the artist:
"Jonathan Pitre did an amazing thing in opening his heart and story to the world. Although I'm originally from Ottawa, I live in France. And still, I was able to follow this extraordinary teenager's journey with EB from afar. It was a very sad day when we learned that Jonathan had passed away. And then when the Humboldt Broncos' crash happened shortly after, it was hard not to think about those two stories at the same time. Both involved young people so full of hope and dreams—and many of those dreams involved hockey. The Broncos were a team; Jonathan was a fan who always wished he'd been able to play, but never could.
When I first posted this drawing online, I was scared that I was too far away to join the conversation that was unfolding across Canada. But then, as it was shared around the internet, it felt as though it had taken on a different life -- it had become part of a moving wave.
If you've followed Jonathan's story, you know where that wave began. It's Jonathan's.
The proceeds from the sale of these prints will go to DEBRA Canada—Jonathan's charity.
Buying a print will make you part of Jonathan's wave, but you can also make a separate donation to DEBRA Canada if you want to make it a tidal one (you need to select the donate tab). I never had the chance to meet Jonathan, but I'm sure he would have liked that.